ferrumaeternum
I'm
really
behind with updates. Yeah, so what else is new? :p I don't have quite as much homework as I did last week, so hopefully I can do a little bit of catching up this week. I spent over 20 hours outside of class last week in the ceramics studio because my teacher decided not to give us an extension on our first project after he said he would. Anyway…
Elizabeth and I went out for our birthdays with Sam a few weeks ago. This was definitely the best birthday I've had in a long time! Sam's birthday was on Monday, but I probably won't be seeing him until Dybbuk's next show on October 8th because their daughter just started kindergarten. He paid for all our dinners at the Stone Sword, coffee and desserts at Alterra, and more coffee and two hookahs with mango and strawberry shisha at Sphinx Coffee. He wouldn't let me pay for anything because it was for my birthday, so I got him a Banksy print off Ebay as a belated birthday present. Banksy is his favorite artist, and I hope he likes the piece I chose. This is also the first thing I've ever bought off Ebay and the first time using my PayPal account, and luckily everything went smoothly. The print was sent from Canada on Wednesday, and hopefully I'll have it by next weekend so I can frame it and get it wrapped.
For my birthday, Elizabeth got me a really nice card that Sam also signed, three pairs of earrings from World Market, and a beautiful black wrought iron jewelry tree. She also bought me the same bracelet I showed up wearing, and she was wearing one herself! What are the chances of that!? I ended up giving one to my sister, so now we all have matching bracelets. XD I bought her a sterling silver dragon pendant at Irish Fest that was handmade in Ireland. She collects dragon stuff, so I figured she would like it. I would have bought her some more stuff, but I had no idea she was even going to get me anything! At least both of us spent about the same amount of money, since the piece of jewelry I got for her was high quality.
It seems like I posted these photos ages ago on Facebook, but not everyone is on there and I want them to be included in my journal, so here they are!
These definitely aren't the best photos of me because I was pretty stressed out that weekend, so there's some major face shine going on and my hair got messed up from the wind and rain. Also, sorry about all the cleavage! I didn't realize my top was
that
low-cut and I'll be wearing a cami underneath it from now on. I know I look more like a saucy renaissance wench here than a medieval lady! XD
Crappy photo, but I had to get a shot of the portrait of Gerard Butler as Beowulf (on the right) from the cover of Beowulf & Grendel! ;)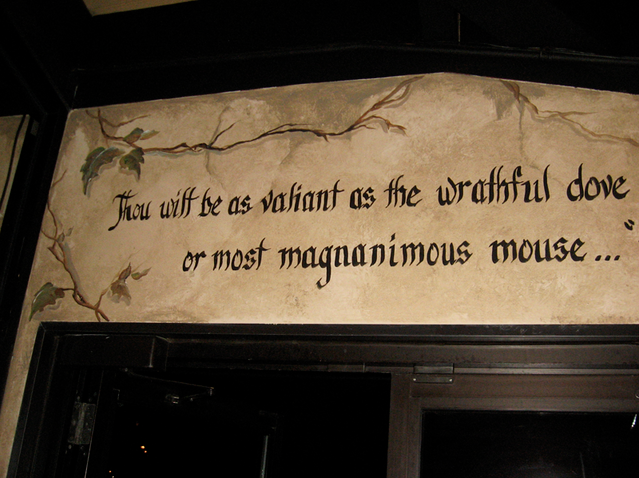 Sam was in a hurry to leave because he really wanted to go to the Arabic café, so hopefully I'll get some better pics next time. Elizabeth wants to stop there the next time we hang out. Their food was excellent, they had vegetarian options, and it was reasonably priced. I loved the whole atmosphere with the murals and Shakespeare quotes everywhere.
Here's a couple from the Stone Sword's Facebook page that were taken during the day:
I didn't get any photos at Alterra because we were only there half an hour before they closed and it's not that interesting, since its pretty much just a big coffee shop where all the East Side hipsters hang out.
Next we went to Sphinx Coffee, where hipsters don't hang out. Instead, there are a lot of cynical Arabic guys who like to sit around and smoke and talk about politics. The latter is definitely better, in my opinion. We hung out with this guy named Raoul from Tunisia there, and we're hopefully going to all hang out again once Sam gets home from Toronto. The café is owned by Egyptians, so there's tons of cool decorations and figurines around of mythological scenes and the most famous pharaohs.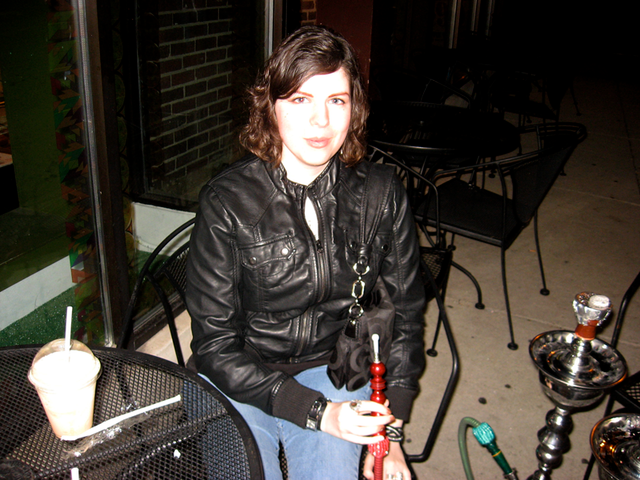 I figure if I smoke shisha just a few times a year, it won't really be any more harmful than the second-hand smoke I had to inhale all those past years at The Rave. ;) Next time I won't smoke so much, though, because I completely forgot about my asthma until the next morning when I woke up with tightness in my chest and a scratchy throat.
I kept trying to get a nice pic of Sam and Beth, but Sam just kept blowing huge clouds of smoke in her face whenever I took a picture. :p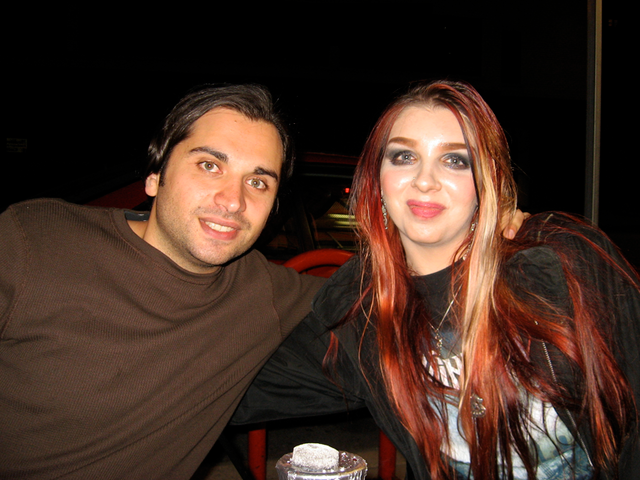 Finally, a cute picture of the couple!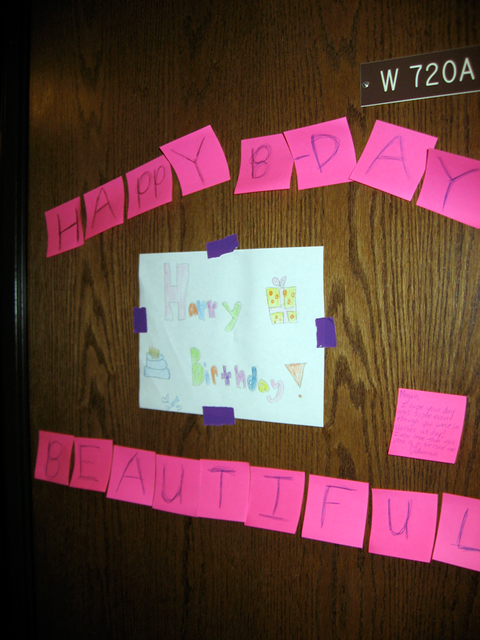 I came back from class on my birthday to find all of this on my dorm room door! :D This is the first year my suitemates have ever recognized my birthday (two out of the three, anyway) and it was really nice of them to take the time to decorate my door. There is one suitemate who doesn't talk to me, ignores me in the elevator, and didn't wish me a happy birthday, but she's another story. At least the other two girls I live with are nice and friendly. One of them has a birthday this week, so I'll be making her some decorations for her door in the next couple of days. Our shared bathroom is being kept clean and there hasn't been any major drama, so that's all that really matters. Hopefully this will be my last year living in the dorms and I can drive to school for my last semester. It all depends on whether or not my sister will have her own car by then, so we'll see.