After many months of hard work, Dybbuk played their first show on August 20th at Vnuk's Lounge in Cudahy. Sam's parents and brother were in town for his daughter's 5th birthday, so they also came to the show. Matt drove all the way down from Watertown, so Sam ended up driving them with a car full of equipment to the venue. It was nice to finally meet their vocalist. Like most of Sam's other friends, he was a lot of fun to hang out with, had a really positive attitude, and a good sense of humor. There wasn't room for Elizabeth or Sam's brother in Sam's car, so I picked them up from their place before heading over to Vnuk's. Things were really chaotic with everyone there and we all ended up being late. Luckily the band made it in time for their sound check! We would have arrived shortly after them, but the venue didn't have a sign. :/ After driving up and down the main drag a few times, Sam's brother called to get the address.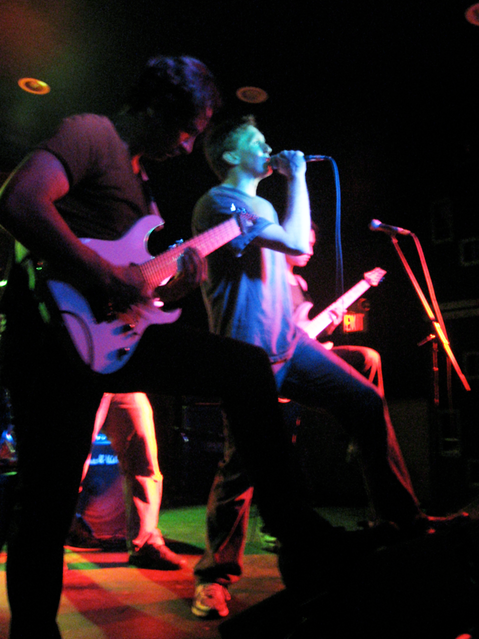 The show itself was really great. You never would have guessed that it was their first time onstage. Sam and Auggie seemed a little stiff and didn't move around much, but they do a lot of technical guitar playing, so I think it will take a bit of practice before they develop a good stage presence while maintaining the quality of their playing. It was kind of funny that they were the opening band, yet Eric had the biggest drum kit out of all the bands. It was tucked away really far back on the stage so I didn't get a lot of shots of him. I'm going to make an effort to get some at their next gig in October. I was glad to see that John got brave toward the end of the set and came up to the front. One of the last songs had a fantastic bass lead, so it was great timing. Matt has played in an '80s cover band before, so he was a complete natural onstage. I wish he had more time to write some lyrics for their songs because it seemed like he was only doing vocals half the time. His growl sounds as good as his clean vocals and did a great job communicating with the crowd between songs. There were only about 20 people there, but as their set went on, the applause got louder, which is definitely a good thing. A couple of the old-school death metal guys complained because Matt didn't use only growled vocals, but that's their loss for being so close-minded. The band has been working on a cover of Iron Maiden's "Only the Good Die Young" and I hope to hear it next month! They only had half an hour to play this time, and who knows how much time they'll get at the next show.
The first four photos are before the show started. Elizabeth, Sam's brother, and I arrived during the sound check. Then Sam's parents showed up, and his dad was buying everyone tropical drinks. XD Speaking of drinks, the reason the guys have x's on their hands is so they could get free drinks. However, there was a catch they didn't know about where 40 people (not including the bands) had to show up for them to be free. There weren't 40 people at the bar because it had been storming all afternoon and evening. Sam and Auggie ended up getting some for free, but the rest of the band didn't.
( + 22 photos )
We only stuck around to see Face of Ruin after Dybbuk. Their vocalist recently left the band, so it was an instrumental death metal set. Beth said the band playing after them sucked and no one wanted to wait to see the headliner, so we went back to her house.
After the band got all their equipment unloaded after the show, Sam and his brother, Elizabeth, Matt, and I went to get dinner and celebrate at Ma Fischer's on the east side. Sam paid for everyone's meal, so I'm glad I just decided to get water and $2's worth of French toast because I didn't have much money left. I didn't get into the show for free because I wasn't married to anyone in the band. :/ I probably could have got in free if everyone didn't wait until the last minute to take showers because we originally planned on driving to the venue at the same time. That way I would have been able to enter through the back with the band. Oh well.
Dybbuk is currently trying to get the opening slot before Blackguard at the Kamelot show later in September and I'm crossing my fingers they'll get it. It would be nice to get in for free and hang out backstage. I have a bad feeling that boring Urn band from Chicago will end up playing, though. Sam and I are also working on getting some t-shirts screen printed with their logo on it.
I can't wait to go to this new medieval bar/restaurant called The Stone Sword on the south side this Friday to celebrate my birthday and Elizabeth's! I'll be 22 tomorrow and she'll be 26 on Saturday. :D