The Soilwork show on Friday was amazing! Wisconsin just recently passed a statewide smoking ban, so it was nice to be able to breathe and not have to worry about my eyes watering or feeling light-headed or smelling horrible after the show. The only downside was that it was incredibly hot - even worse than at Hypocrisy. After the show, Sam said the only concert he'd been to that was hotter than this one was in the desert in 120-degree heat.
The Crinn
This band was mostly straight-up hardcore with some metalcore and technical and progressive elements. Before I saw them, I read that their album can also be interpreted as one whole song, and after seeing them I have to agree. You couldn't tell one song from the next and the band rarely stopped for applause. I'm also not impressed with bands that use weird time signatures. They make a big deal about it because all of them are self-taught musicians, which I find a bit annoying. Once you get the feel for a strange time signature such as 5/7, it's not much different than playing a song in 4/4, whether you're classically trained or not. Though I'm not a fan of hardcore, this band was at least tolerable to listen to and their music had a few interesting aspects to it.
Swashbuckle
I could see this band every week and never tire of them - that's how much fun I always have watching these guys. They were playing "Hit Me with Your Best Shot" while warming up, and some idiot behind me yelled, "Minus 100 metal points for that!" Seriously, fuck you 'cause Pat Benatar is awesome. Once again, no coconut tree or parrot costume guy, but they came onstage dancing to what sounded like an electronic remix of Alestorm's "Set Sail and Conquer". Another funny thing that happened was some guy back at the bar yelled that he wanted some women and Admiral Nobeard said that a metal show is not the place to pick up women 'cause the ones that are there look just like the men. XD Swashbuckle even dedicated a song to beer, cheese, and bratwurst in honor of Milwaukee!
About halfway through their set, I felt someone tap my arm, and I looked back to see Sam and Elizabeth! I hadn't heard anything from them about the show, so I assumed they weren't going, but they decided to come at the last minute. I'm glad they came so I had some people to hang out with, since Dominic wouldn't be there. I was also feeling too shy to go up and talk to the guys from Mutiny Within when they were hanging out near the buses and vans before the show.
Mutiny Within
These guys were fucking amazing! I had just checked out their video and a couple other songs on YouTube a couple hours before I left to go to the show and I was completely blown away. Beth has been a big fan of theirs and kept telling me to check them out. I just wish I had done so sooner so I could have properly sang along when they asked the audience to at the show. I'll definitely be ready when they return in a couple months, though! I love Chris's clean vocals just as much as his growl and both sound flawless live. He's also a great showman, constantly running around the stage with his cordless mic. The whole band sounded really tight, too! I'm really impressed with them, especially for being so young and a new band. I can't stop listening to their record. Here's their video for the single "Awake":
Augury
As I mentioned in an earlier entry, Dominic 'Forest' Lapointe, their bassist, decided to leave the band after their tour with Vader. The band is definitely not the same without him! Their new bassist isn't as good, and you could hardly hear him. Dominic made sure to really crank it up when he played, as it is an important element to their music and truly put the technical in technical death metal. The rest of the band sounded good, but it was disappointing after the last time I heard them when they were
great
.
On a side note, Dominic isn't talking to me anymore, and I'm kind of disappointed about it. He probably realized that I'm not interested in him romantically and stopped pursuing me. Ugh, why do guys always just totally ignore you and never talk to you again after you've turned them down? Why can't they get over it, look for someone else, and still be friends, especially if there are common interests between both parties? It seems like the only men women can really be friends with have to be either already married or in a relationship or gay. Oh well.
Death Angel
The 80's Bay Area thrash legends did not disappoint! They put on one of the most energetic performances I've ever seen, which inspired the crowd, despite the heat. Some smaller pits had broken out during Mutiny Within and Augury's sets, but they didn't come close to the massive circle pit during Death Angel. There were constantly 20-30 people in it, and after they were done playing, the floor was covered in puddles of sweat. Their frontman's ferocious yell and guitarists' abilities really stood out. It's also always a treat to see someone playing a Les Paul in a metal band, where the skinny, light guitars are usually preferred.
After I got back from the bathroom after Death Angel's performance, who of all people do I see at the bar with Sam and Beth? Chris from Mutiny Within! I'd told them earlier that I thought the only cute guy there was him, after Beth and I had a bunch of annoying gross old guys hit on us. Later during Soilwork, one even touched my tattoo like he was trying to read Braille off it. Because of this, Sam made a special effort to introduce me to him, and we actually hit it off pretty well! I had no idea he and one of their guitarists were actually from the UK. He said he liked my haircut because it made me look like a movie star from the 1940's, which was probably the best compliment I've ever received! :D I try to style my hair and make-up from that era, and I guess I succeeded. Then he started singing some Vera Lynn song to me and I was smitten. Seriously, a guy who's single, a fantastic formally trained metal vocalist, a vegetarian, a few years older than me, AND also likes mid-Century vintage stuff? Why can't he live around here!? :( This is not good that I only keep falling for guys from bands and no local guys 'cause at this rate, I'll be single forever…unless I move somewhere else or by some stroke of luck attract someone who isn't from here. FML. Anyway, Sam was going to buy him a drink, but I had two free drink tickets I hadn't used yet, so I bought him one. (Sam insisted on buying me two waters and saving my drink tickets, bless him!) Even though I said it was too hot to drink, he said he'd get a beer if I got a beer, so I caved to peer pressure and got a Heineken. I literally got a slap on the wrist from Chris for stealthily sneaking a drink from a straw so I wouldn't mess up my lipstick but I got caught. It's not like it was a particularly good beer anyway, and if they actually had a decent beer selection there, you can be sure I wouldn't have used a straw. He ended up chucking the straw over the bar, so that was the end of it.
Brandon from Mutiny Within came over after a while, and Chris asked if we'd met his guitarist yet, and I had to tell everyone that I'd hit him with the women's bathroom door as I was coming out. I'd already apologized profusely to him after it happened, but having to tell everyone made it even more embarrassing. This is probably worse than when I walked in on Blackguard's soundcheck last year 'cause I ended up embarrassing the poor guy as well. (I also got walked in on in the bathroom even though I could've swore the door was latched, but it was just another chick, so it wasn't that big of a deal.) In my defense, I have to wonder what the hell he was doing right outside the door because their merch table was a good four feet away from it. Anyway, I had a really great time chatting and drinking with them and Elizabeth and Sam. I'll be looking forward to their return in October and November with Nevermore and Epica.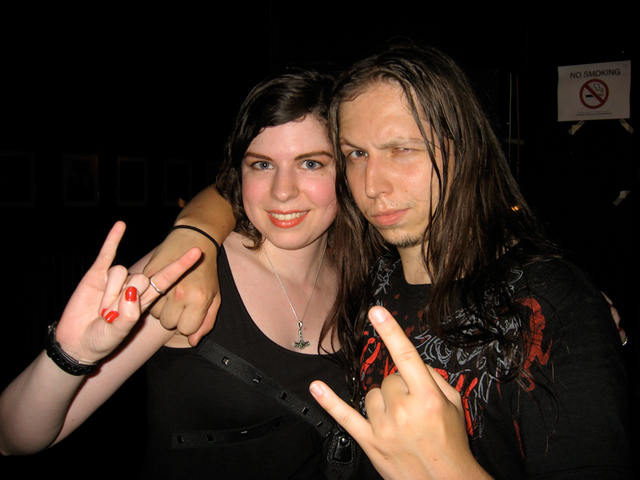 I have no idea why he's making that shifty eyes/raised and lowered eyebrows face in the photo, but he did the same in Sam and Beth's photos as well. I think I've finally been bested when it comes to the "Elrond eyebrow"! XD Also, don't mind my flushed, sweaty self here!
Soilwork
I've never been more than a casual fan of these guys, and their live performance further reinforced my opinion. They're a good band, but nothing really stood out about their performance. Some people left right after Death Angel, and while I think it was a bit rude, I can also now understand why. They also didn't play any songs I know, but I was pretty tipsy by then, so it was nice to just lean back on the bar and listen. I was too hot and tired to care at that point.
These are the only two photos I took that turned out due to the damn strobe light. I was too chicken to try to take any before Soilwork's set (and coincidentally before the alcohol started to kick in). Luckily the venue's photographer got some
decent shots
of Soilwork, Death Angel, and Augury.
After the show, I went back over to Mutiny Within's booth and picked up their self-titled album for only $5! Brandon said if I opened it he'd sign it, and he also got the rest of the band to sign it! :D
( + 3 photos )
Sam and Beth were so kind to offer me a ride home, so we quickly stopped at an East Side coffee shop and were on our way. I felt bad because the concert got out really late and it's a 45-minute drive to my house when there's no traffic. They also had to drive straight into a huge thunderstorm and back home in it, too. I have some toys and books for their daughter next time I see them, so hopefully that will make up for it.