This is also ridiculously late, but I just recently figured out how to convert my magazine project from an Adobe InDesign file to smaller (yet still readable) PhotoShop files.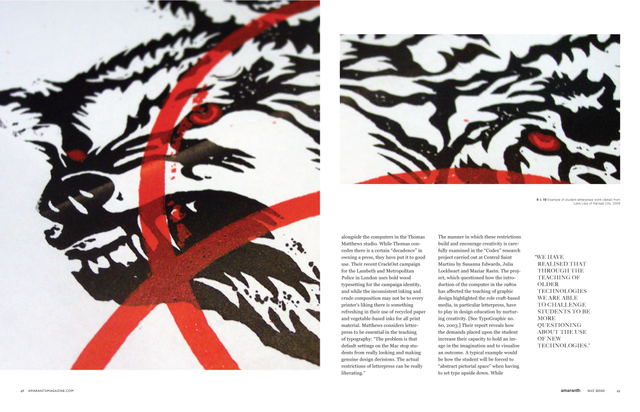 I spent a month slaving over this project, measuring every letter and line of text in Print Magazine, so I figured I'd still post it. Intro to Design was a great reminder of why I decided not to major in graphic design, as I originally intended. I feel that with this project (and field, in general), I was very restricted in terms of creativity and expressing my point of view as an artist. The first two articles were required, and we got to choose from a list for the last two short ones. I wanted to do the one on Russian prison tattoos so badly, but the teacher said that would be the article that would ruin the project by shocking anyone in the graphic design field who saw it. :( The magazine design also had to be heavily influenced from an existing design magazine. I had free reign of font choices, images, layout, end bullet, and title, but that was pretty much it.
One good thing that has come out of it is that I now feel that I could put out a more professional d.i.y. music zine in the future if I can ever find the time. I also found a great small company printer on the East Side that only charged me $20 to print the whole thing out. Each page measures roughly 9" x 11".
Overall, I'm happy with how this turned out, but the layout for the Unger article could have been better. The teacher had a rule where we couldn't use any pictures of him because he was sick of looking at his face and purple shirts, so it was hard to find any other images on the topic. I also started working on it a day before the project was due, which didn't help either. There was also some drama when the teacher accidentally entered 10/100 for the presentation grade of this project instead of 100/100, which gave me a D- on the whole thing and a B- in the class. I had to contact the head of the Peck School of the Arts to get my grade straightened out, but everything has been taken care of, and I ended up with an A- in this class and A's and A-'s in all my others. :)
( + 14 non-dial-up-friendly spreads )